Technology is moving fast 💨 Here's 'What's New' at Mass Dynamics to help you, your team and Collaborators level-up 👀!
Thank you for being a valued Mass Dynamics member. We're thrilled to see how our service is helping you and your team complete their important work. In this email, we've shared our pick from a long list of new features we've been working on. Give them a test-drive and let us know your thoughts!
Feature 1
Mass Dynamics' new collaboration with Bruker PaSER
An exciting development in the field of proteomics and data analysis was announced at US HUPO 2023, Chicago as Mass Dynamics and Bruker PaSER launched it's new collaboration.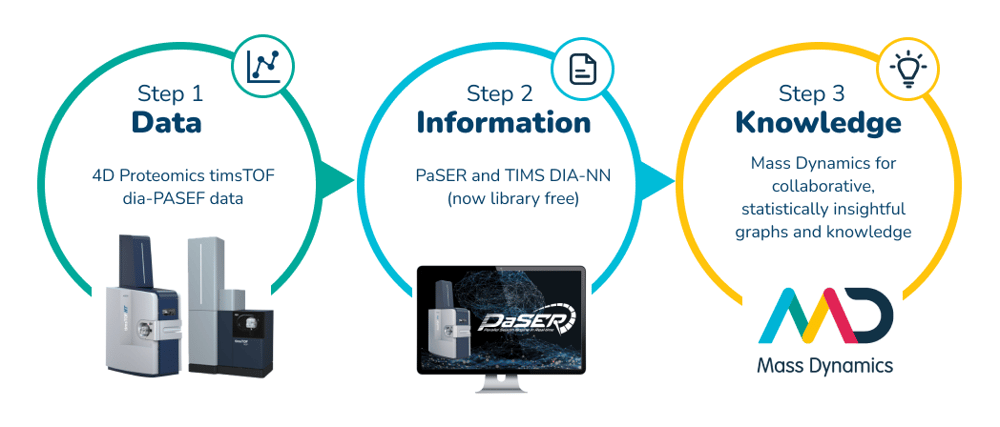 Bruker PaSER has been bridging the "data to information" gap and we're proud that Mass Dynamics now completes the "information to knowledge" gap. The capability enhancements of the latest PaSER offering, coupled with Mass Dynamics now allows researchers to extract biological knowledge from their data with ease, and without compromise.
"We are pleased that our partnership with Mass Dynamics
is resulting in meaningful proteomics advances"
Dennis Trede, Director of Informatics, Bruker Life Sciences Mass Spectrometry
Read more or try it now with your TIMS DIA-NN data.
----------------
Feature 2
Explore how to use clustering analysis to visualise intensity patterns in less than 60 seconds.
Mass Dynamics can now dynamically generate flexible heatmaps with user-selected or auto-generated lists of proteins using ANOVA and pairwise comparison results to allow you to quickly detect and visualize intensity patterns in your data.
With its built-in clustering, intensity standardisation, high resolution export options, and clearly defined color scales, Mass Dynamics makes it easy to accurately represent and interpret your data. Being a cloud-based application built for scale, Mass Dynamics can render data-intensive heatmaps and maximise knowledge generation with ease.
PS. The cherry on top: Mass Dynamics conveniently auto-saves settings and results, and offers downloadable visuals in a variety of formats!
----------------
Feature 3
Are you ready for seamless and in-situ collaboration to maximise the avalanche of data?
With the increasing presence of AI and machine learning in the field, an avalanche of data on top of an already existing data analysis bottleneck continues to brew.
Mass Dynamics' offers new in-situ collaboration features that enables proteomics experts, biologists and all other team members to facilitate rapid insight generation and decision-making from proteomics datasets. This is needed now more than ever.
Get your inter- and intra-lab teams and collaborators communicating seamlessly now.
----------------
Feature 4
Find out what's 'under the hood' - MD 2.0 now on BioRxiv
ICYMI earlier this year Mass Dynamics unleashed the power of proteomics even further with the release of our MD 2.0 discovery service. Explore the full description of exciting update features in our BioRxiv paper here that will instantly augment your research for greater impact in the community.