Hi there!,
Welcome to the final #MassGeek Playbook for the year - a HUPO 2022 Special Edition!
If you are new to the MassGeek Community, welcome! We're so glad you're here. The Playbook is a curated quarterly summary of all things 'Mass Spec' (MS) and Proteomics to help life scientists Know and Grow and for us to Show!
The spirit leading up to holiday season is all about giving and we were proud to do that en masse at HUPO 2022 in glorious Cancun. Scroll down to see how much we donated to HUPO Early Career Researcher (ECR) community on behalf of the Congress attendees, plus more!
Things to KNOW
Upcoming dates and events
Things to GROW
Top 3 things we heard and loved at HUPO
Highlight # 1: "MD completes the missing link of genuine intra/inter lab sharing and in situ collaboration"
We're ecstatic that so many Congress delegates could already see the enormous value MD2.0 will be bringing to their studies. Co-Founder and Chief Scientist, Assoc. Prof. Andrew Webb enjoyed sharing our poster 'The New Science of Collaboration' with the delegates who dropped by.
Download the poster here or read our pre-print in bioRxiv here.
‍
Highlight #2: Single Cell Proteomics (now achieving > 3,500 proteins per cell) charges on and the rise of Spatial Proteomics continues
We've said it before and we'll say it again, change and progress is inevitable, but the current rate of change, volume and accessibility to technology is unprecedented. Single cell and spatial proteomics were mentioned in several presentations and conversations throughout the Congress, making it clear the investigation of these areas and methods will continue to grow in focus for many labs.
Highlight #3: Supporting a healthy research environment for ECRs
It was our privilege to support a number of ECR initiatives throughout the conference and are proud to announce the Congress community unlocked a total donation to HUPO ECR for the amount of $550 (USD). Due to our unfortunate supply chain issues beyond our control, we couldn't fulfil our original giveaway plans so increased our donation to HUPO ECR to $800 (USD) instead. Congratulations and thank you to everyone who supported contributed a marble token to our initiative.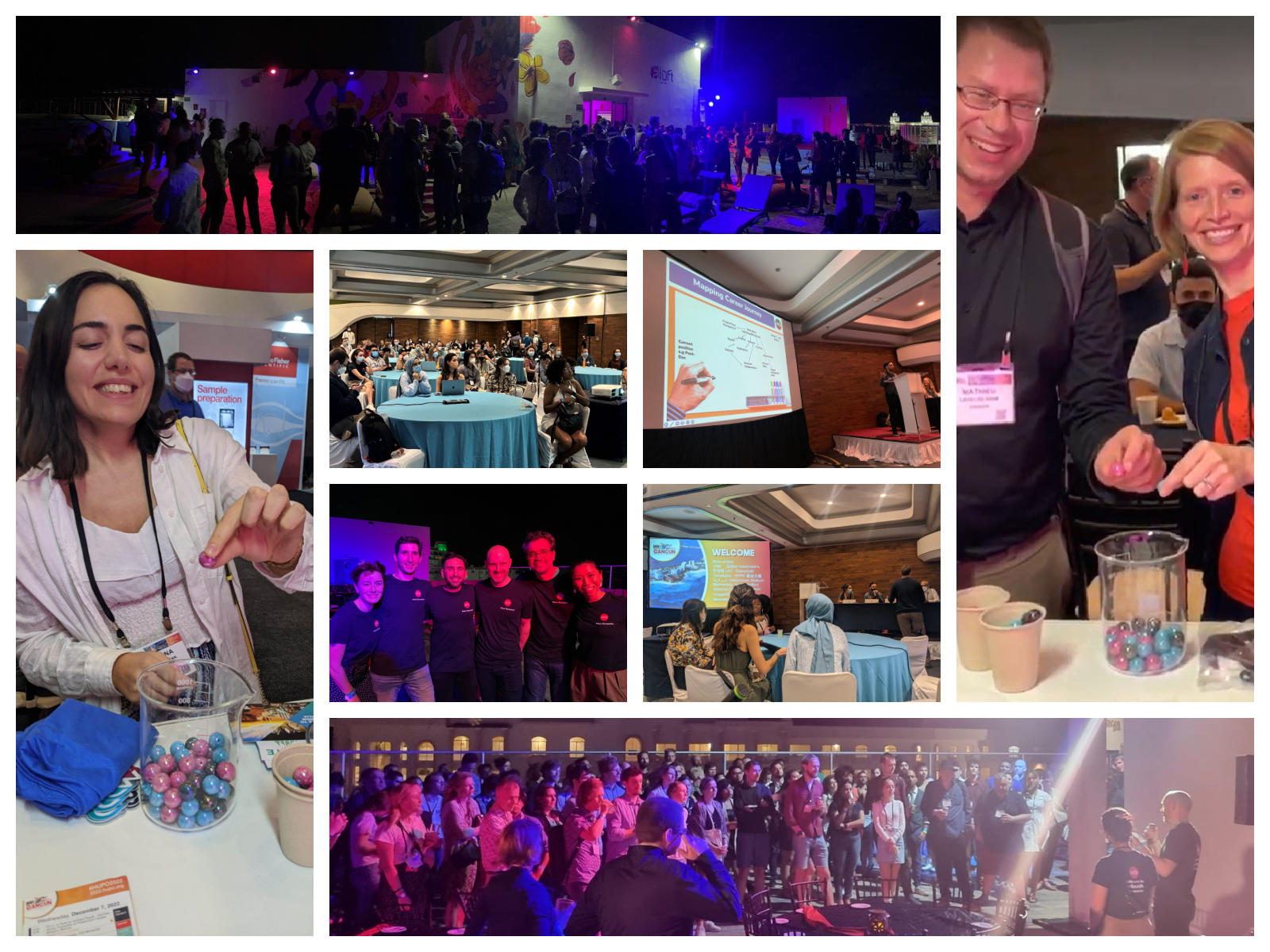 Things to SHOW
Blog Post #4 live: Envisage a tomorrow where human disease doesn't exist
Mass Dynamics Co-founder and Chief Scientist Assoc. Prof Andrew Webb recently shared his story about how proteomics is set to transform life science and human health. Hot off the press, his new blog post shares how Mass Dynamics is unleashing the power of proteomics. Read more here

Happy holiday season!
It has been another extraordinary year of scientific progress that we feel extremely privileged and grateful to be a part of. We thank all of our supporters and look forward to a fun and fulfilling future with you in the new year.
We hope everyone enjoys a well-deserved break over the holiday season. We understand that scientific progress doesn't always conveniently stop so will ensure we have support available for those who may need.
Best,
Team MD